Culligan® Bottleless Coolers
An unlimited supply of bottled-water quality water!
Bottleless Water Solutions
A Culligan
®
Bottleless Cooler provides cool, refreshing water every time. Our units provide bottled-quality filtered water, without the hassle of buying, storing and changing out water bottles.
Take care of problem drinking water
and bottle storage issues when you rent a Culligan
®
Bottleless Cooler!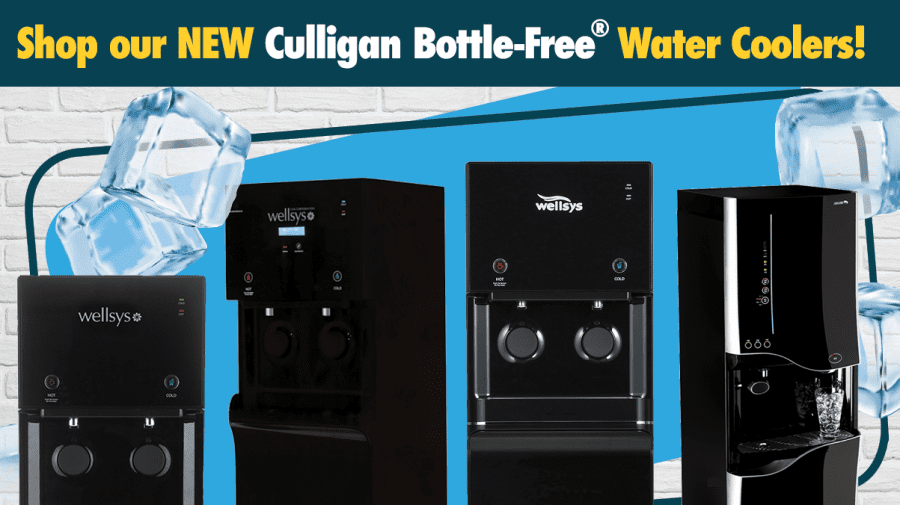 Popular Culligan® Bottleless Cooler Models
Wellsys 9000 and 9000 CT
Available in freestanding and countertop designs, the Wellsys 9000 series easily fits in your home or office space. These models feature state-of-the-art filtration and sanitization, with built-in leak detection systems.
Wellsys 11000
With SafeTouch™ antimicrobial technology, multi-phase filtration and leak detection, the Wellsys 11000 cooler provides better water and peace of mind. Its customizable display shows water usage, temperature, filter status, indicator lights and messages in real-time.
Wellsys 12000
The Wellsys 12000 model provides endless filtered water – and it now includes ice, up to 100 pounds per day! These coolers feature multistage filtration and mineral enhancing technology to balance pH and restore valuable nutrients. Both countertop and freestanding versions are available.
Culligan® Bottleless Coolers attach to your home's water supply and run the water through advanced filters, removing impurities and contaminants. The filtered water is then stored in an internal storage tank, so you'll have plenty on hand whenever you need it.
Culligan® Bottleless Coolers are easy to use and maintain - there are no filters for you to change or water bottles to replace. With our bottleless coolers, you'll never have to make space for bottles or worry about running out of water again. With no bottles and caps to dispose of, they are better for the environment as well!
Benefits of Culligan® Bottleless Coolers:
Provides a continuous supply of bottled-water quality drinking water from the unit
Space-saving design uses a small amount of floor space
Removes dirt, silt, clay and other sediments
Removes unpleasant tastes, including sour, metallic and soapy tastes
Removes unpleasant odors, including chlorine and "rotten-egg" smells
Latest
Blog Posts
When it comes to water treatment systems, Culligan Water offers a better return on investment than any big box store....
Prepare Your Home's Water for the Holiday Season The holidays may look different this year, but it's still important to...
These are the nicest people to work with. If I need something, they are on it immediately. I would highly recommend them for soft water needs.

Gayle Skretteberg
- Culligan Customer